How Ducted Gas Heating Saves Your Time, Energy and Money
Published on Feb 11, 2014 by Coleman Levin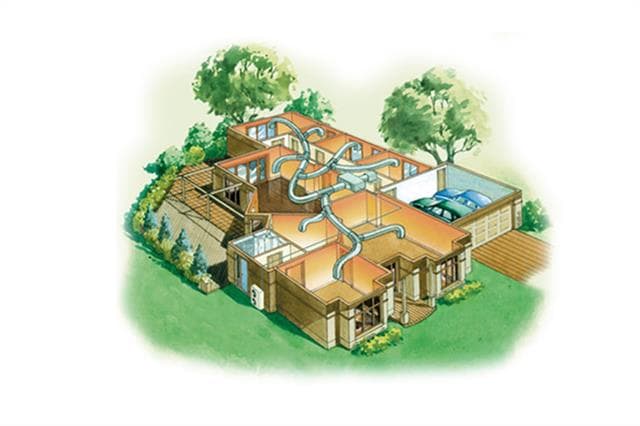 Clean, eco-friendly and energy efficient, these are just some of the advantages of a gas ducted heating system. It is designed to heat an entire home or a particular room of your home. This is made up of a central heating unit, which is connected to a series of outlets – these are positioned all over your household and are installed either in the floor or ceiling. The air inlet is placed at the ground level to warm air that is drawn down; therefore making an even warm temperature at all levels within the room. Gas ducted forced air system is energy-efficient because they heat fast and move heat from one space to another and then re-heat returning air and return to rooms.
In most areas, electricity costs are rising faster than gas, so natural gas heating offers a cost-effective alternative. The areas can be integrated in the heating system for areas like a dining room that is not often used and require constant heating; these areas can be used to save money on your electricity bill. Essentially, a gas ducted system only uses energy when your home is below your chosen temperature.
Introducing Super-six ducted gas heating
According to Australian Gas Association, ducted gas heating produced just 1/3 of the emissions of heating produced by black coal-generated electricity providing instant warmth without drying out your eyes. The super-six ducted gas heating system produces less greenhouse gas emissions than most other forms of heating systems. So when you buy a heating system, look for a super-six gas heater rather than the normal 3-star energy saving labels. Installing a Super-six gas heating is more efficient.
Advantages of a Super-six ducted gas heating system

Comfort - It provides instant warmth all over your house; less draught, minimises the dry-out effect - no eye or skin irritation, it has zone features that allows you to warm particular rooms, quiet, efficiently and cost-effectively.
Safety - Ducted gas heating has no exposed hot surfaces, no naked flames, no fume emissions, and no power cords or dials to play with.
Allergy-free - No asthma, no ash or fumes, no stinky smell.
Energy efficiency - Using super-six ducted gas heating provides excellent heating efficiency: lower running costs with Zone heating and gas unit efficiency; with distinctive energy saving control features; plus single ignition point that decreases gas intake.
Energy Efficient
So how much you can save? Here at Colbycool, we bring you the most economical heating system in the world, the "Super-Six" ducted gas heater – it brings you highly energy efficiency and savings that will save roughly $400+ every year on its running cost!